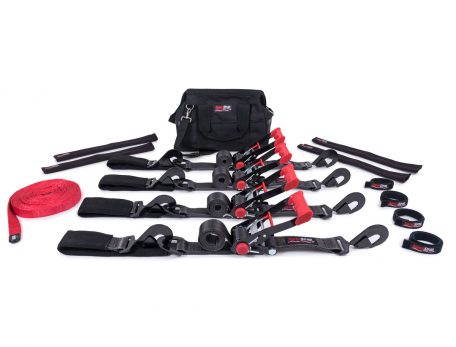 SPEEDSTRAP ULTIMATE OFF-ROAD KIT (2″ TIE-DOWNS)
GET EXTRA PROTECTION AND OUR REVOLUTIONARY 1" SUPERSTRAP WITH OUR ULTIMATE OFF-ROAD KIT.
Featuring a 3,300 lb Safe Working Load (SWL) and a 10,000 lb Maximum Rated Capacity (MRC), all 2" tie-downs are built with our signature, wide handle, comfort grip and protective end caps on the barrels to protect your rig.
These Off-Road Kits, provide all the essential tie-downs for your truck, buggy, or Jeep and a convenient carrying bag to store them in.
Kit includes:
4 – 2" X 8' Ratchet with twist snap hook and axle wrap

1 – 1" X 25' Speedstrap

4 – 2" X 20" Fleece Protective Sleeve

4 – Speedwrap

1 – Large Tool Bag