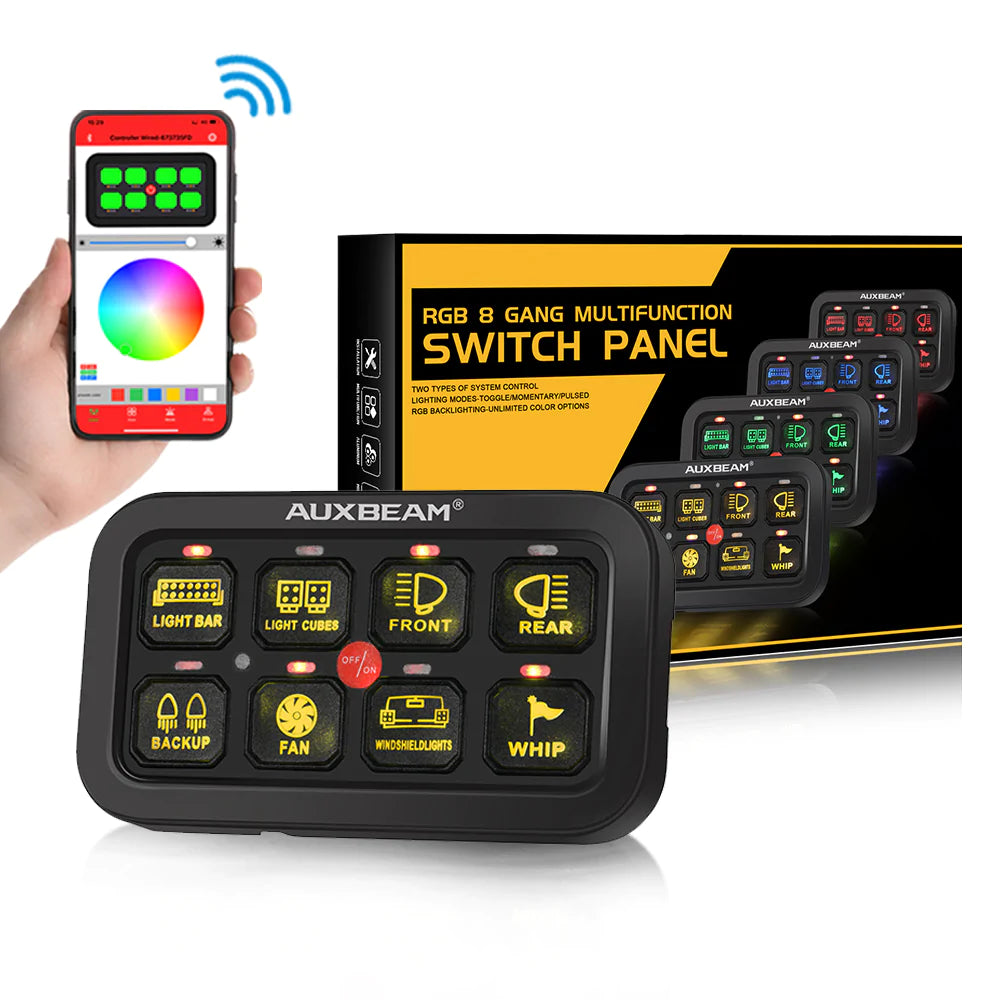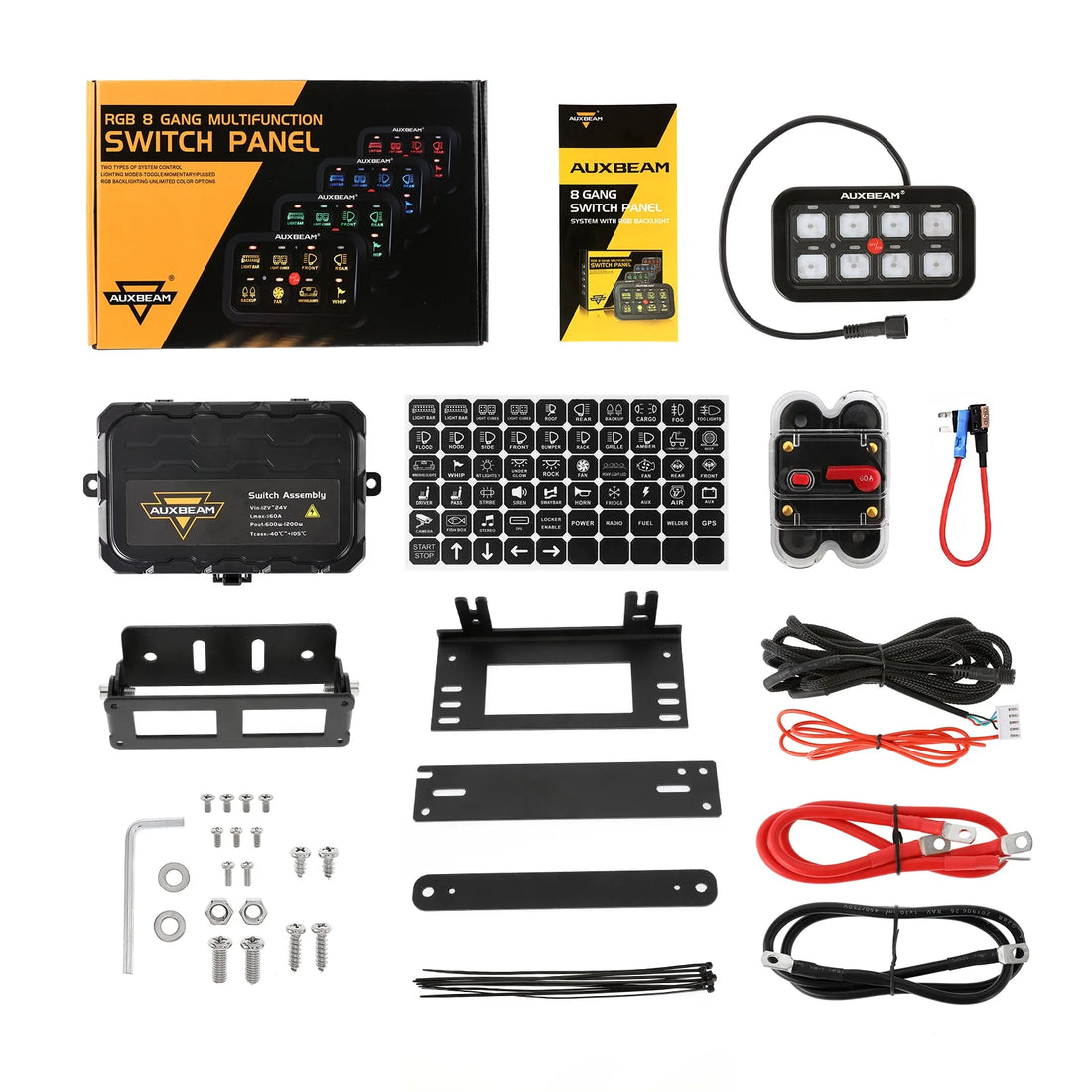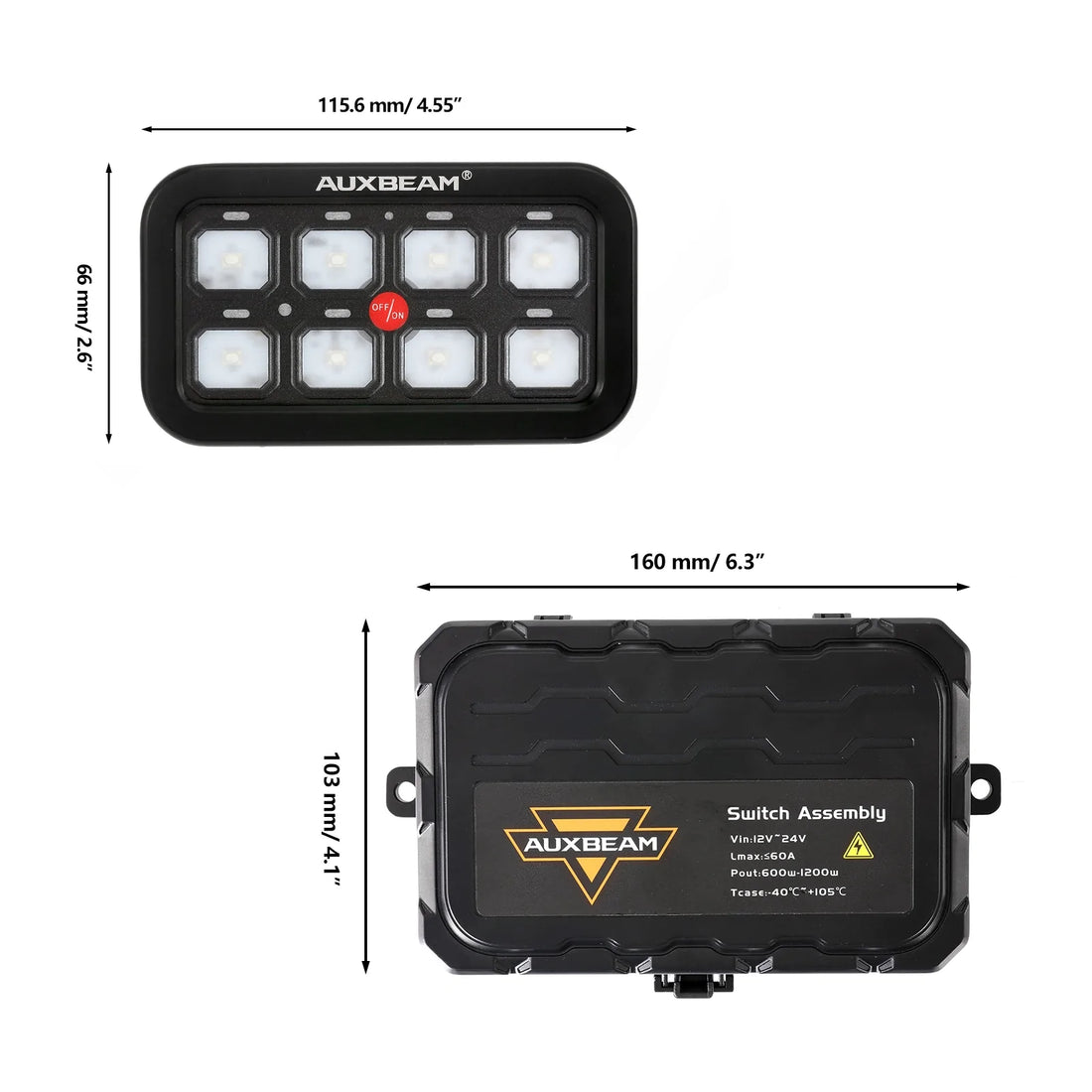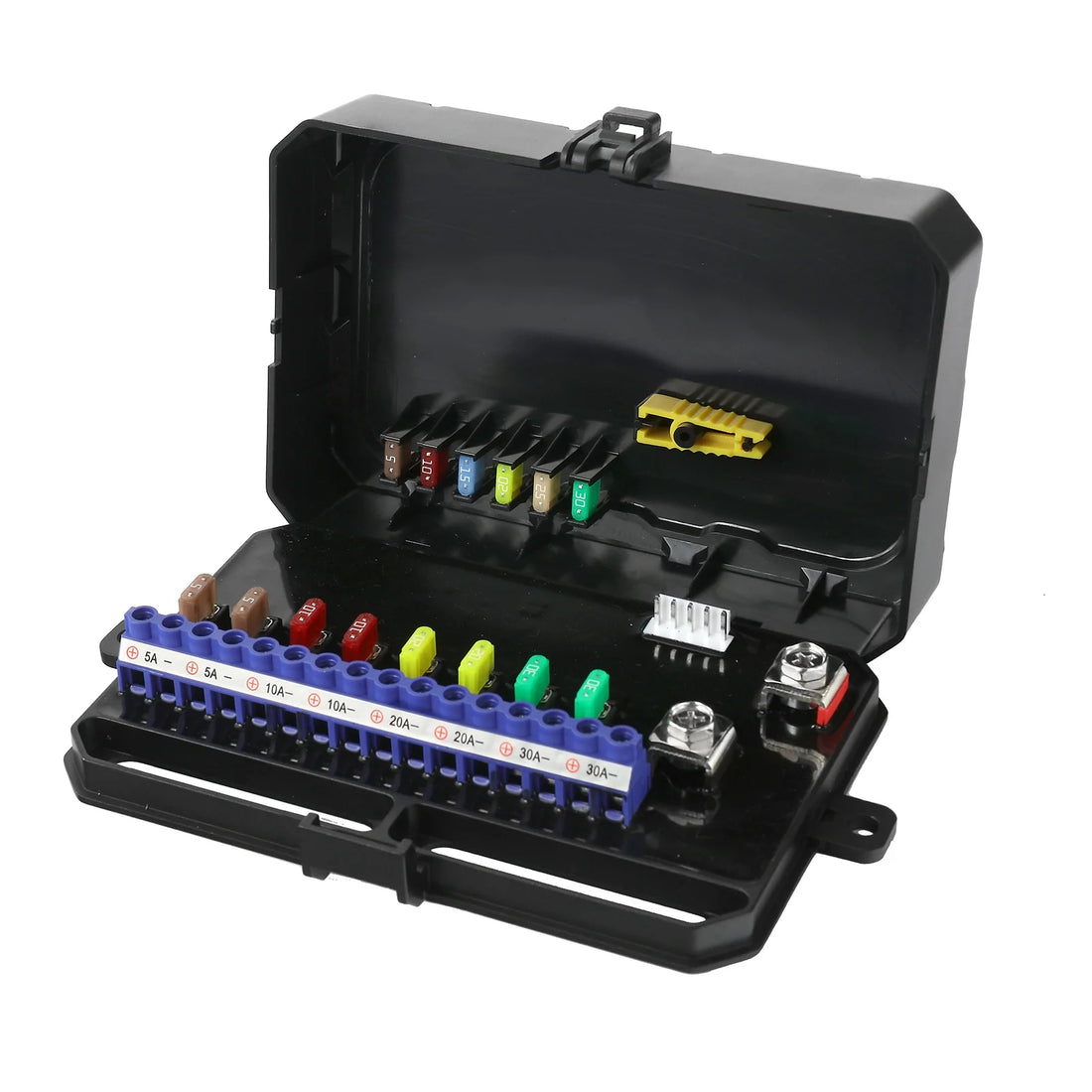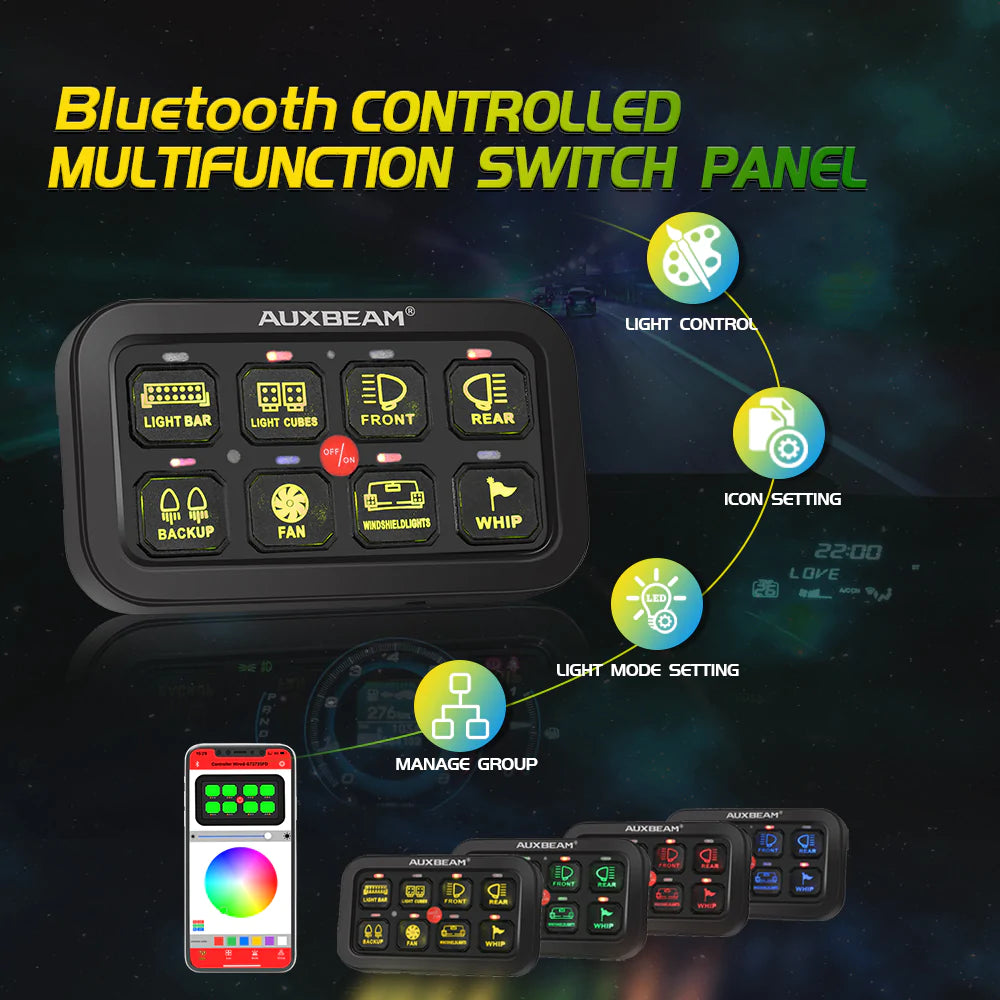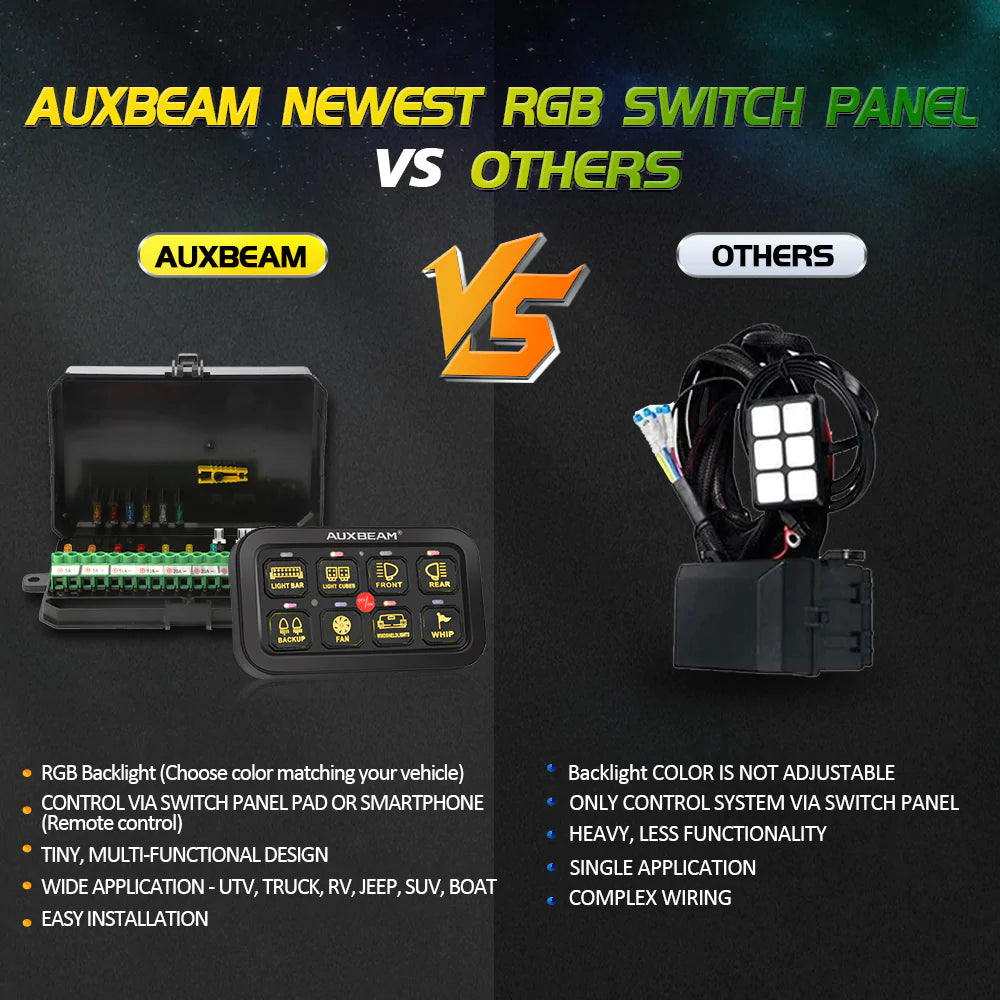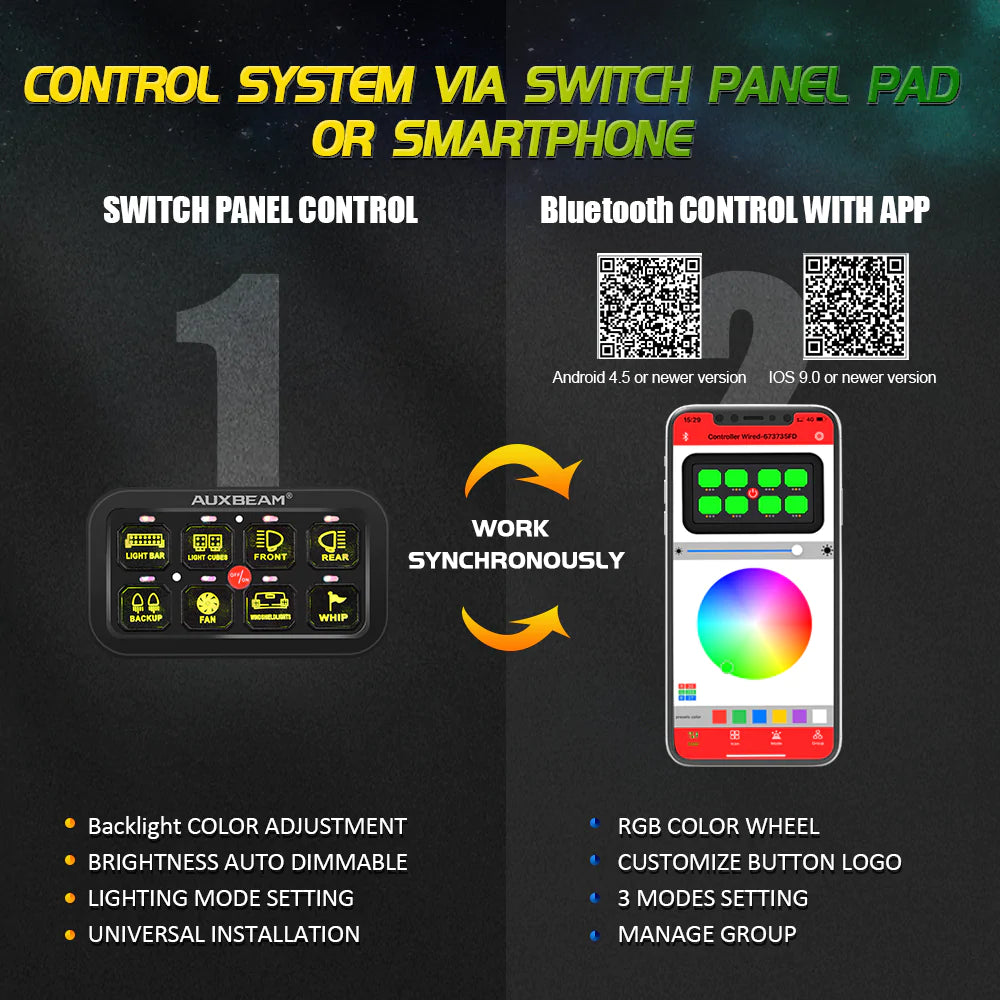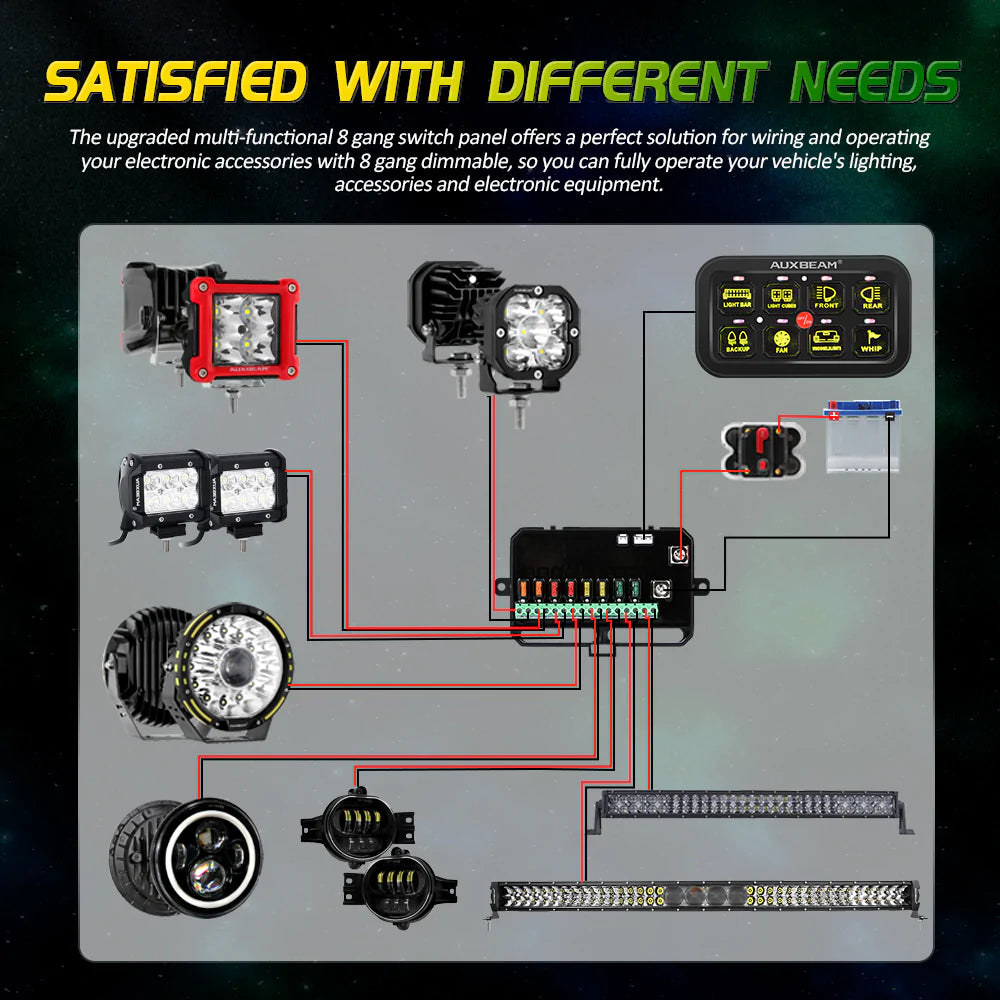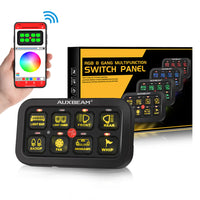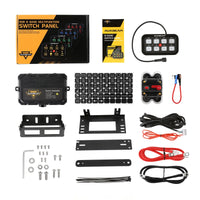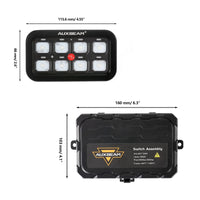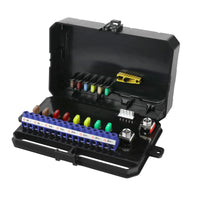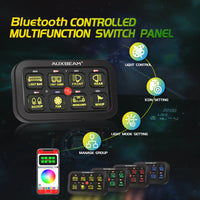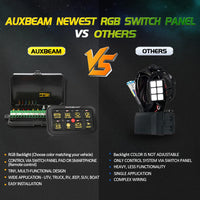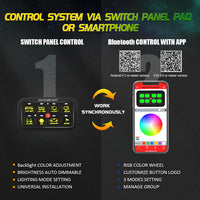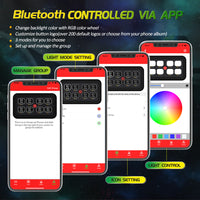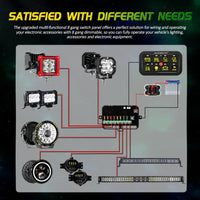 8 Gang RGB Switch Panel with APP AR-800 by Auxbeam
Check out the best value switch panel on the market.  Now with RGB backlighting and app control form your mobile device.  Each switch has 3 modes, Toggle (just like a rocker switch), momentary (for a horn or winch), or Pulsed (to strobe lights). Change the backlight color and lighting modes to customize the look for your application!
RGB backlight - Unlimited color options match dash lighting and vehicle
3 mode setting - Toggle/ Momentary/ Pulsed
Bluetooth APP control - Access to accessories no matter whether you are in the vehicle (The QR code of APP can be found in the picture)
Group setting - Set up a group via APP to control 2 or more lights at the same time
DIY switch panel - 60pcs stickers/ 200 default icons/ custom picture from your own album
Specification: 
Working voltage: DC 12-24V

Max current: 60A
Rated voltage: 12V 20A / 24V 10A
Operating at 12 Volts: max power rating of 720W
Operating at 24 Volts: max power rating of 1200W
Switch operation: On-Off
Operating temperature: -40°C - +105°C
Waterproof rating: IP65
Features:



▶AR-800 RGB Switch Panel
8-Gang one-sided outlet switch panel.

 

It allows you to control up to 8 different LED lights or devices. Command all your vehicle accessories by the tap of your finger.
2 control methods

 

- Switch panel & Bluetooth APP, work synchronously. Built-in Bluetooth module allows you to program and control the system anytime & anywhere.
3 modes setting.

 

Each switch has 3 kinds of light status, different indicator status represents different working modes.
RED-Toggle, Constant power mode
BLUE-Momentary, Press & hold the button to turn on, then release the button to turn off, just like pressing the horn button.

GREEN-Pulsed, Flash mode. Press the switch once and the device will flash on/flash off, continuing until the switch is pressed again. 
RGB backlight color.

 

Adjust backlight color and brightness to match your vehicle.
Backlight brightness automatic dimmable.

 

Automatic adjustment according to the brightness variation of the environment.
Assign each switch a logo (60 universal stickers to choose from). Use the provided switch labels to indicate what's connected to that switch. 
DIY button icon on APP. 200 default icons or use your own photos from the phone album.
Setup group.

 

Manage multiple accessories in your custom groups. Assign 2 or more

 

accessories

 

to the same switch button and then control them at the same time.
Waterproof IP65, high sensitivity, stability and strong anti-interference ability.
Safety protection.

 

Built-in resettable fuse, reverse polarity protection, over-voltage protection, and over-current protection. The fuse adapter makes it easy to connect the control box to the vehicle's fuse box without cutting, splicing or damaging the original wiring in the vehicle.
Easy Installation.

 

No complicated wiring, no need to cut a big hole in your vehicle. Plug & play wiring harness can connect the LED lights or accessories easily.
With 2 types of mounting brackets, you can mount the panel in the best location for your vehicle, such as the dash panel, center console, overhead sunglasses holder, etc.